A destination wedding in Victoria, on the Bellarine Peninsula.
Winery weddings are whimsical. A winery wedding with a bay view is extra. Not all winery weddings with a bay view have to take place along the Mornington peninsula, many times the beautiful Bellarine gets forgotten by those couples coming from the south or east of Melbourne. But what these couples may not have considered is that the Bellarine is the glamorous location for a destination wedding. It has all the bells and whistles and plenty of option to eat, drink, stay, play and be merry in celebrations. This is exactly the reason why Mariah and Lachy chose Jack Rabbit as the centre for their Labour day long weekend wedding extravaganza.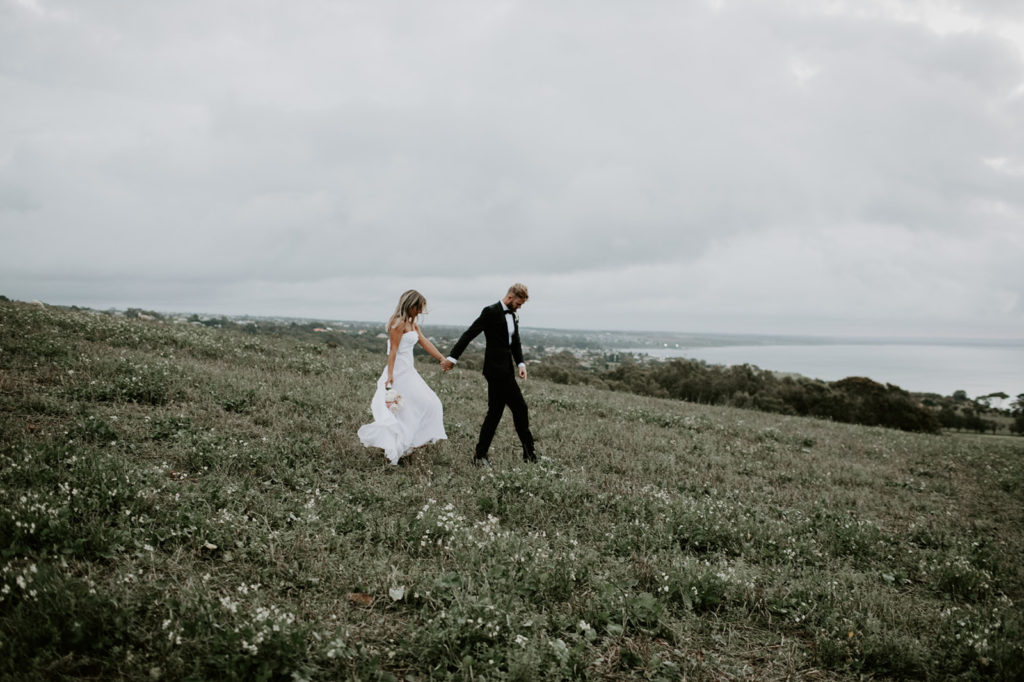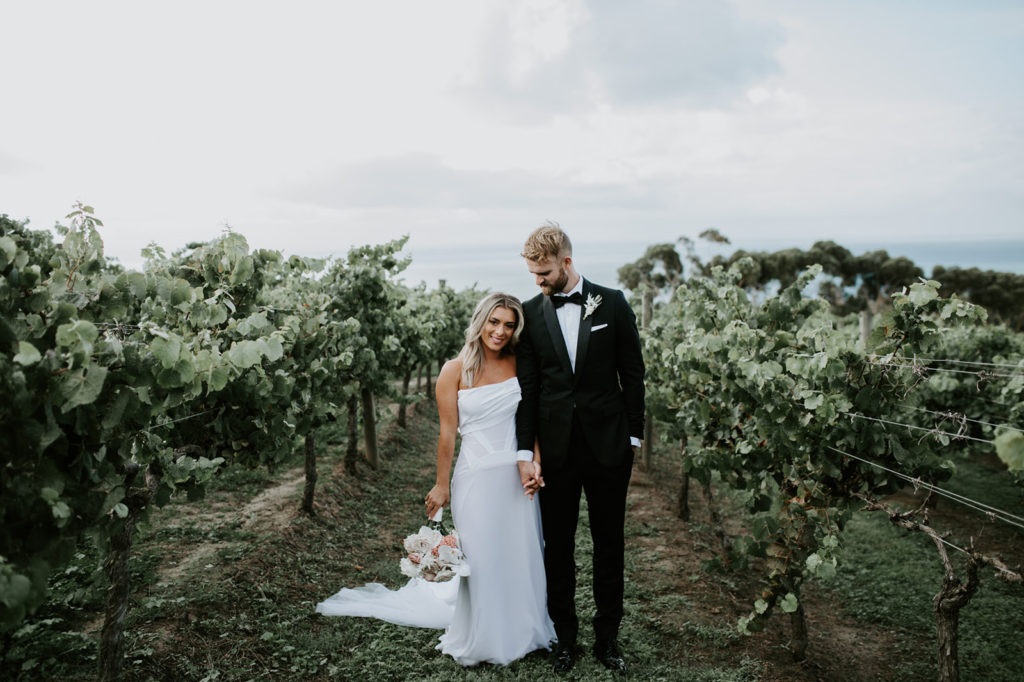 We first met Mariah and Lachy in April at the 2019 Valley Loves Wedding Fair. When they chose us to be their celebrants we were so excited, not only because they were getting married at Jack Rabbit, but because they were Uber cool, relaxed and friendly. Just before the wedding, we met with them to go over the ceremony details and we heard about their Hens and their Bucks. Using Mariahs love for the queen Beyoncé, her amazing tribe of ladies created a "Homecoming" weekend for her.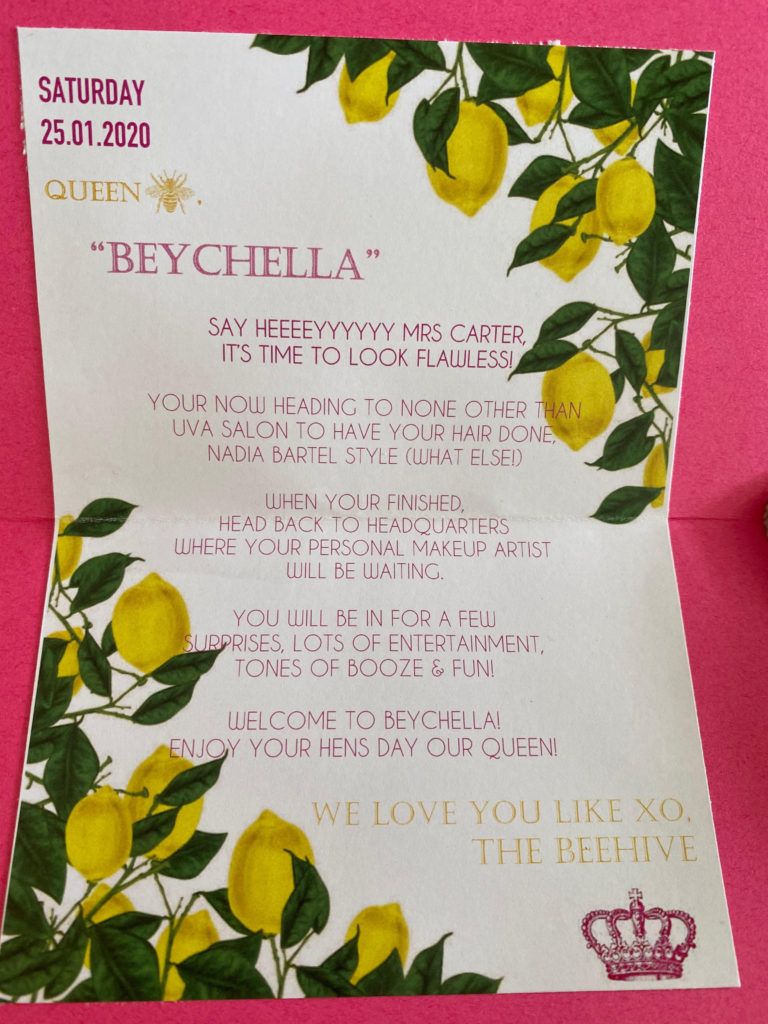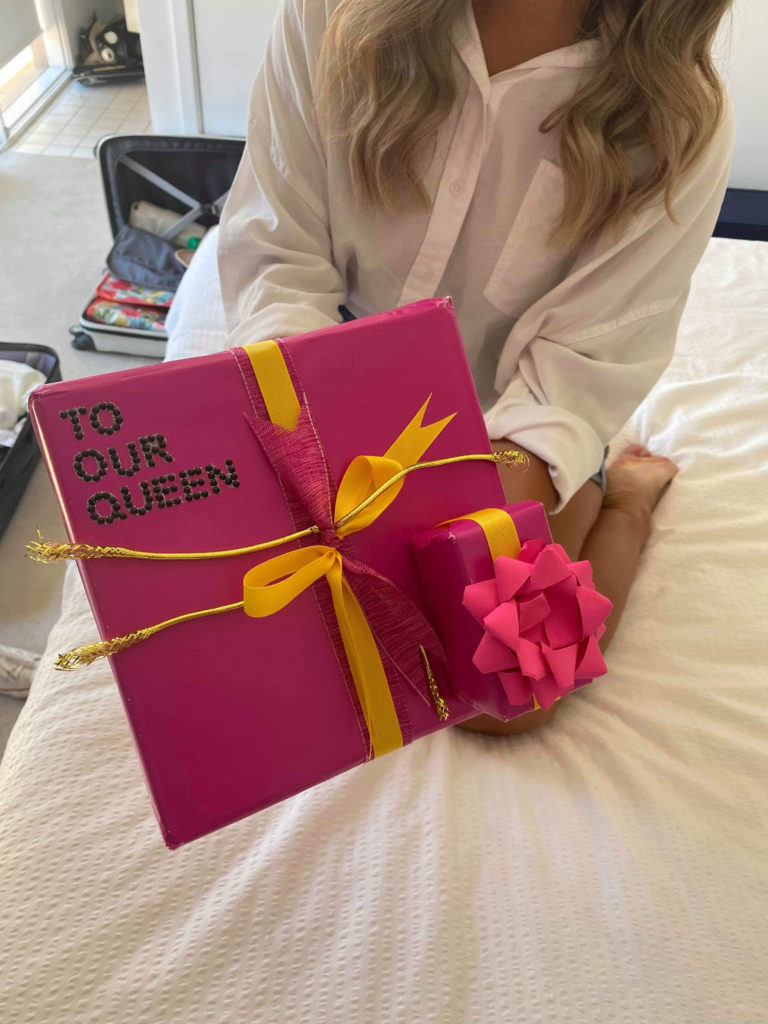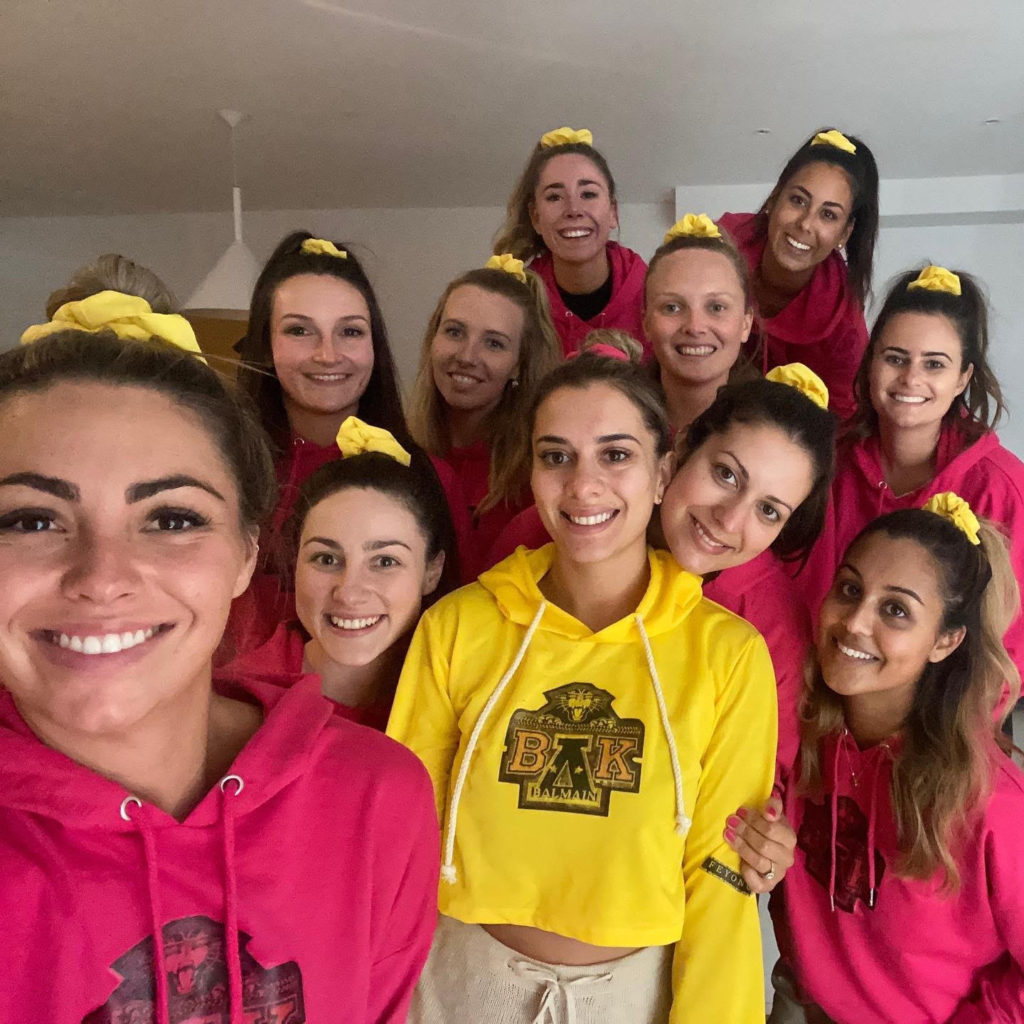 Mariah and Lachy both headed down to the peninsula the night before their wedding in order to settle in and to get their wedding party together at Jack Rabbit for a run through. Which is such a good idea, particularly if you have a big wedding party or if you have a little anxiety about how it's all going to work in the day. The ladies stayed at a house down in Barwon Heads and she was able to have her fur babies there.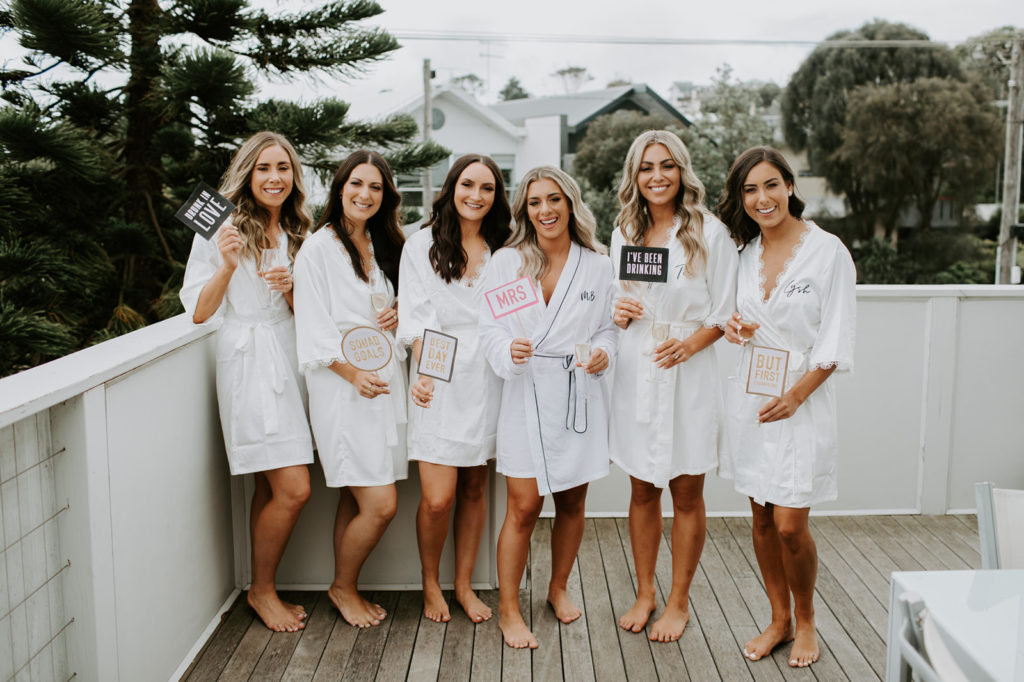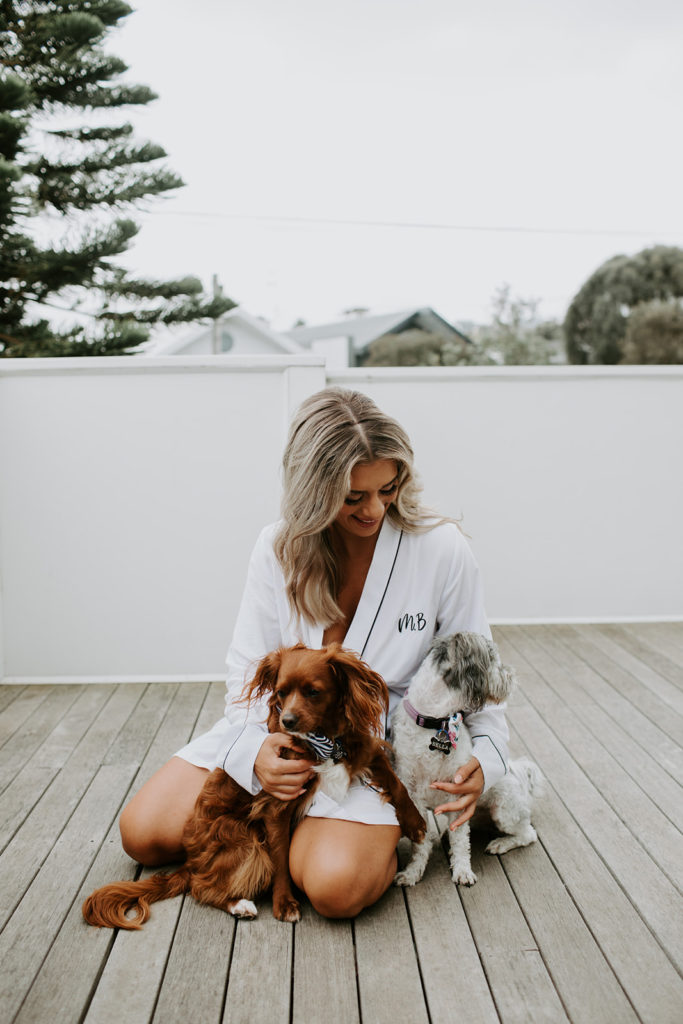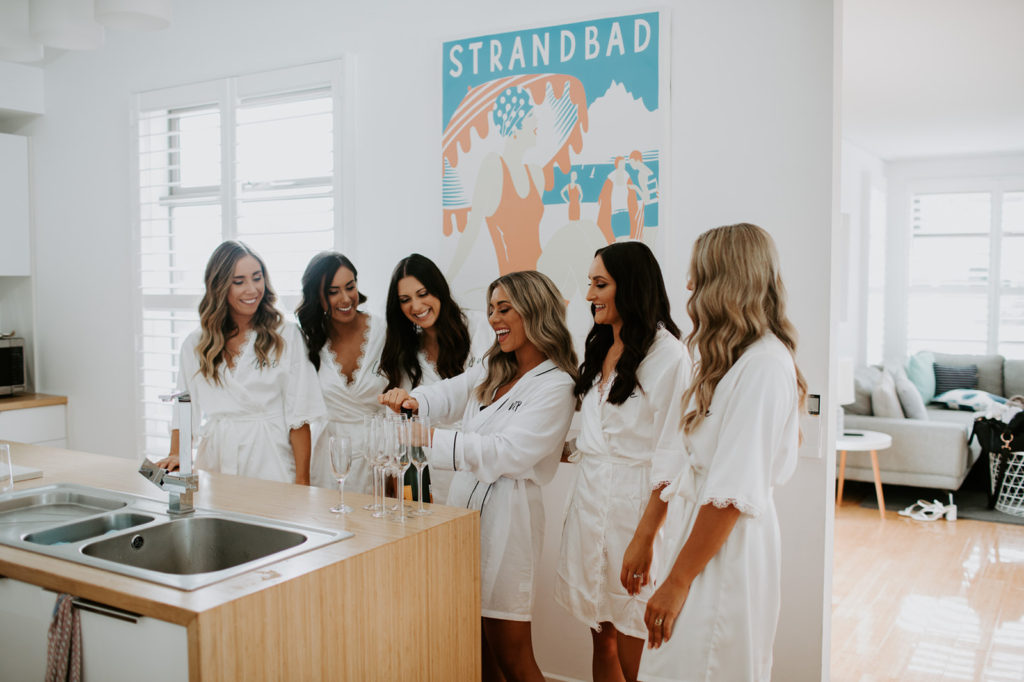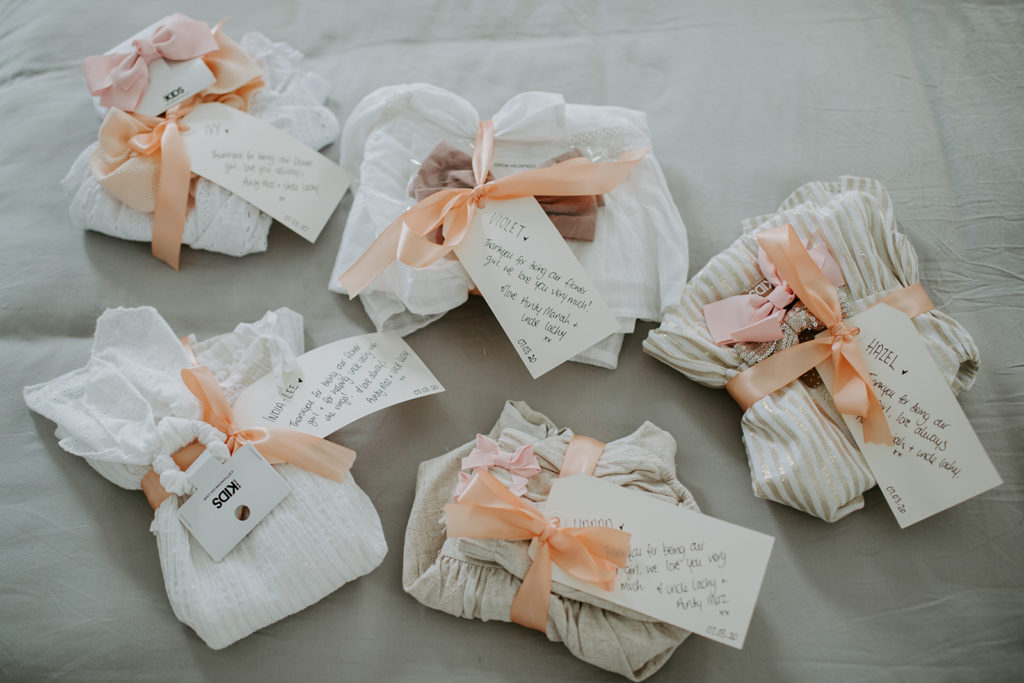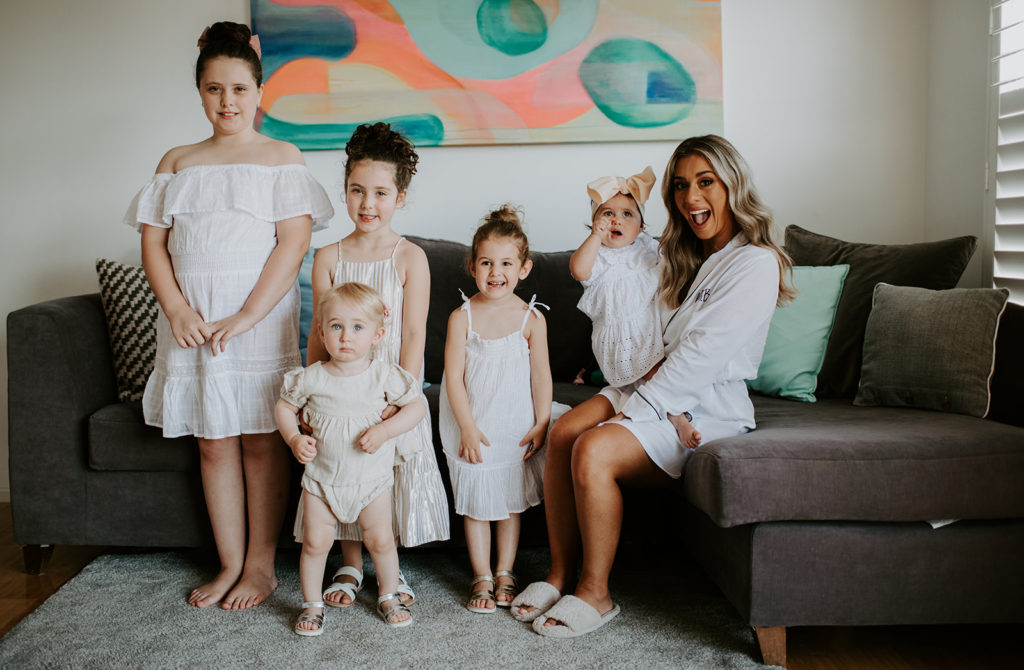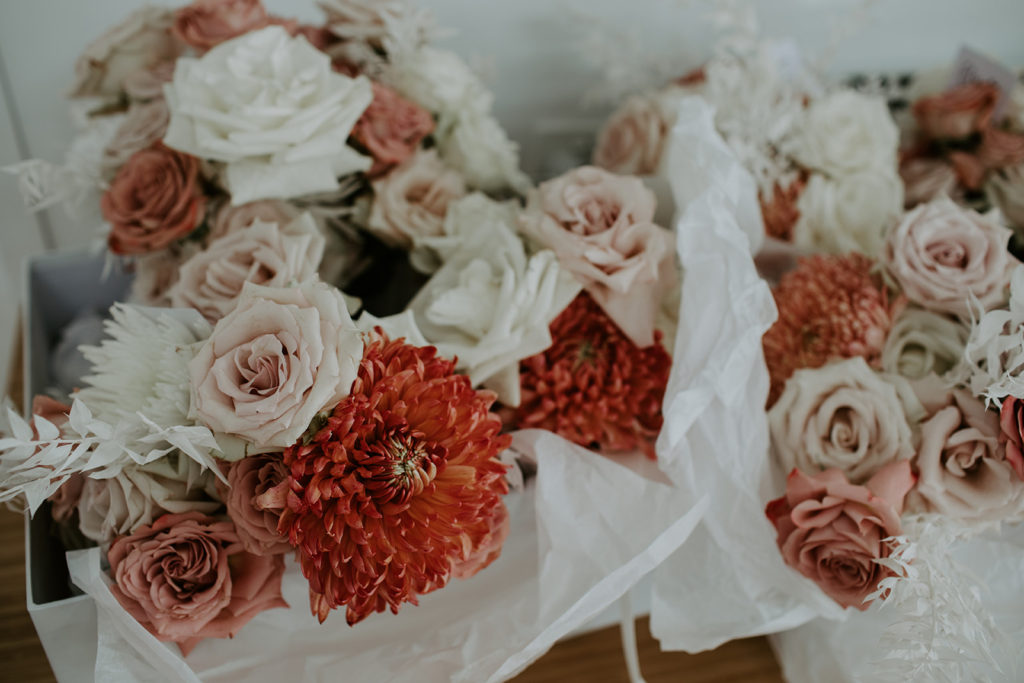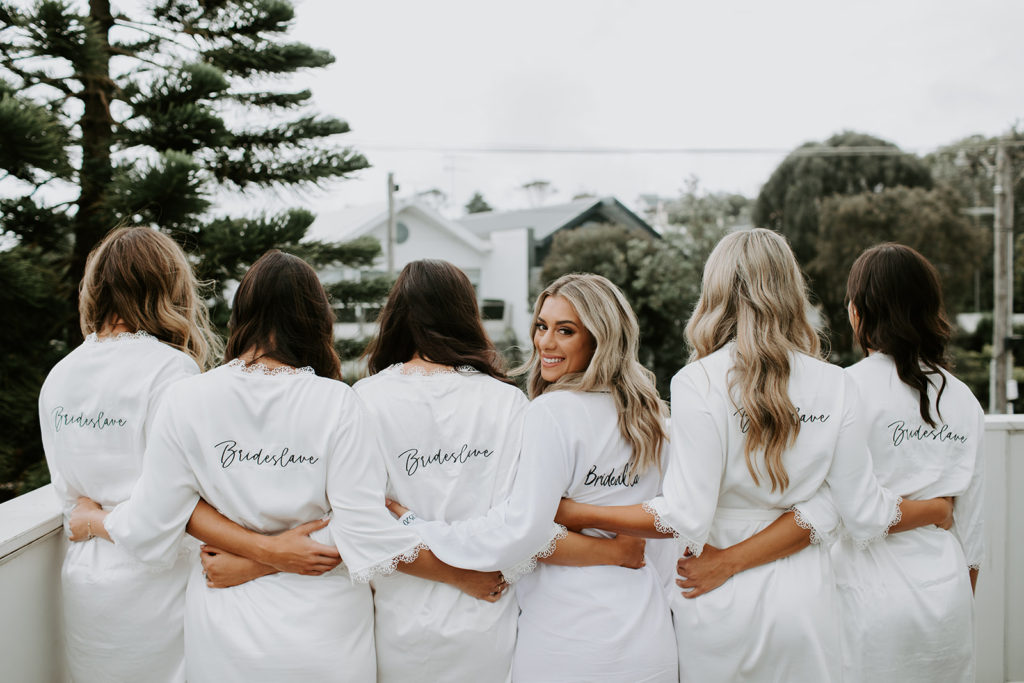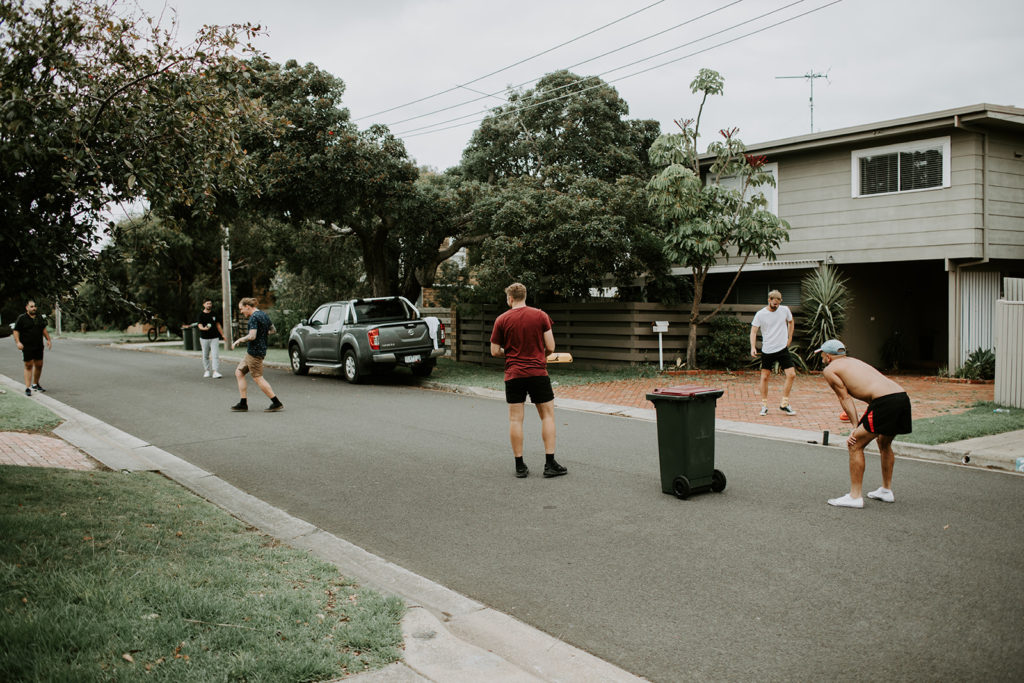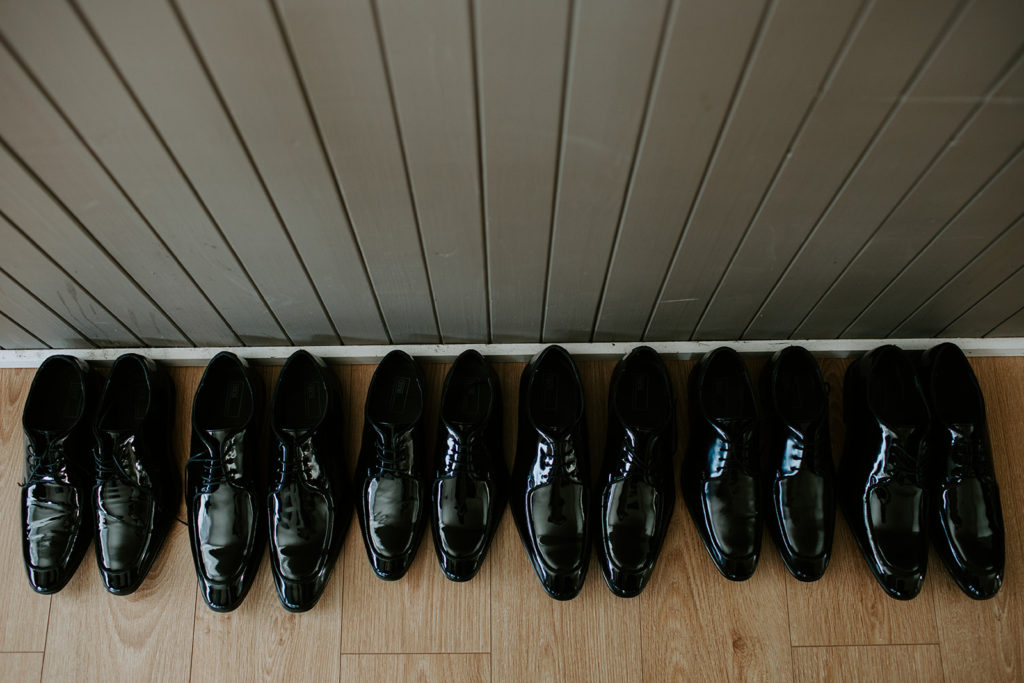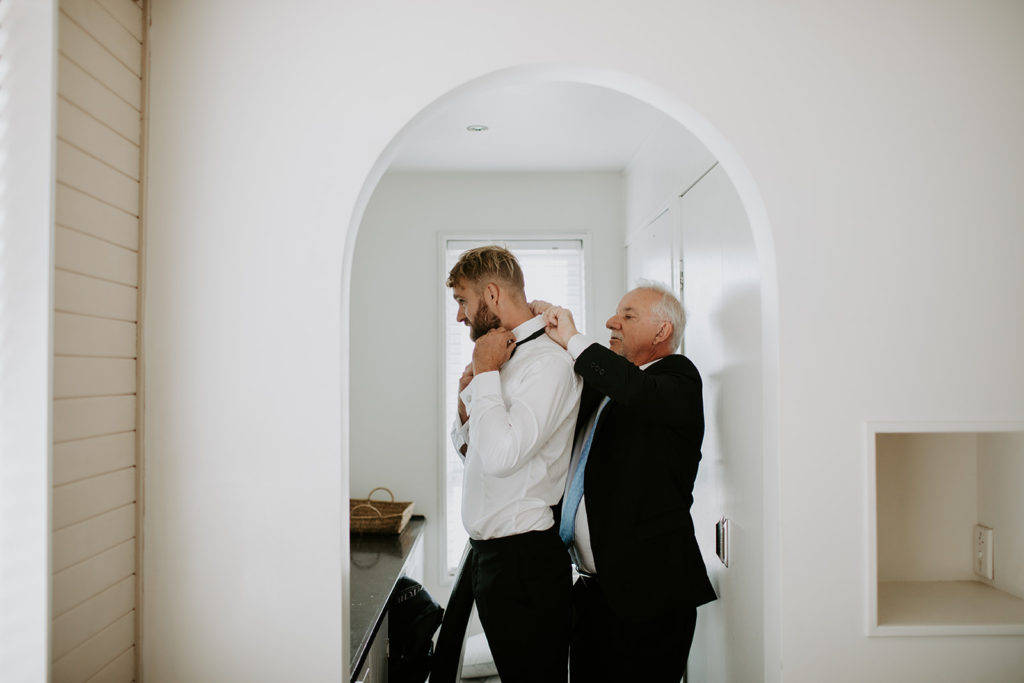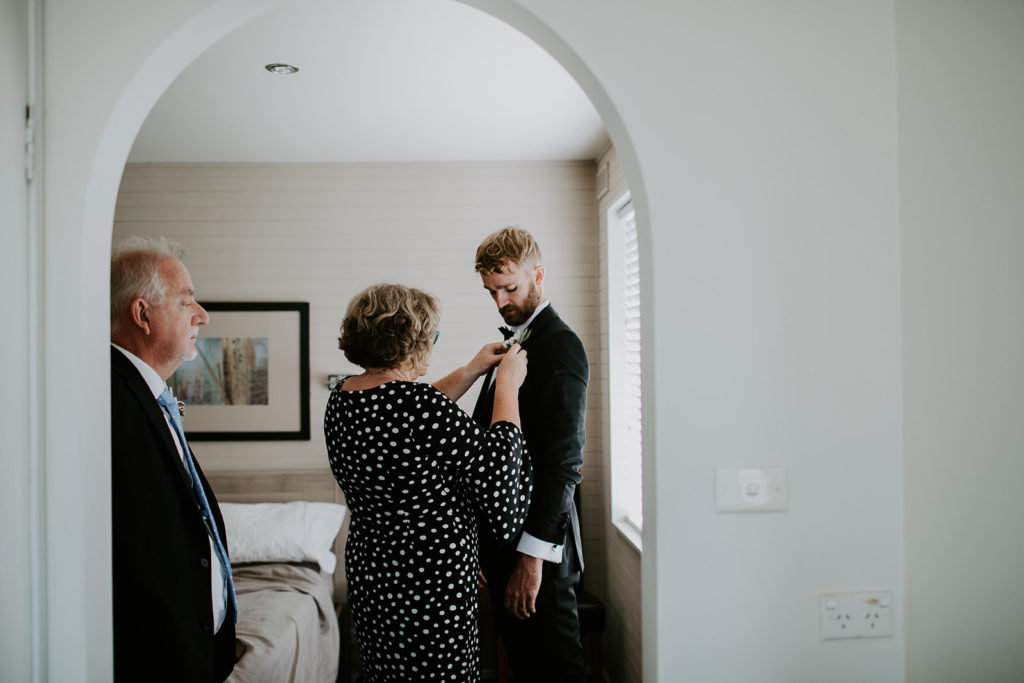 The weather was perfect for them, a wedding photographers dream. Mild temps, touches of blue sky and a perfect amount of overcast skies.
We, Two Sisters, planned a weekend down the coast staying at an Air B'n'b in Barwon Heads with our extended family. So, the drive to Jack Rabbit was just a quick 20 mins. When we arrived, the vibe and mood at Jack Rabbit was cool, calm, relaxed and on-point. The boys were chilled and ready to roll with Rhiannon there mingling and giving her crowd control spiel. The girls arrived not long after we were set up and it was show time. Carly was around the back settling nerves and coordinating the flower girls, bridesmaids and providing the last train and veil fluff before Mariah hit her runway.
The ceremony went off with a bang and Rhiannon was there to make it all very legal and official for them. With the bay behind them, it was the perfect romantic setting for these two beautiful humans to get hitched.
The Ceremony.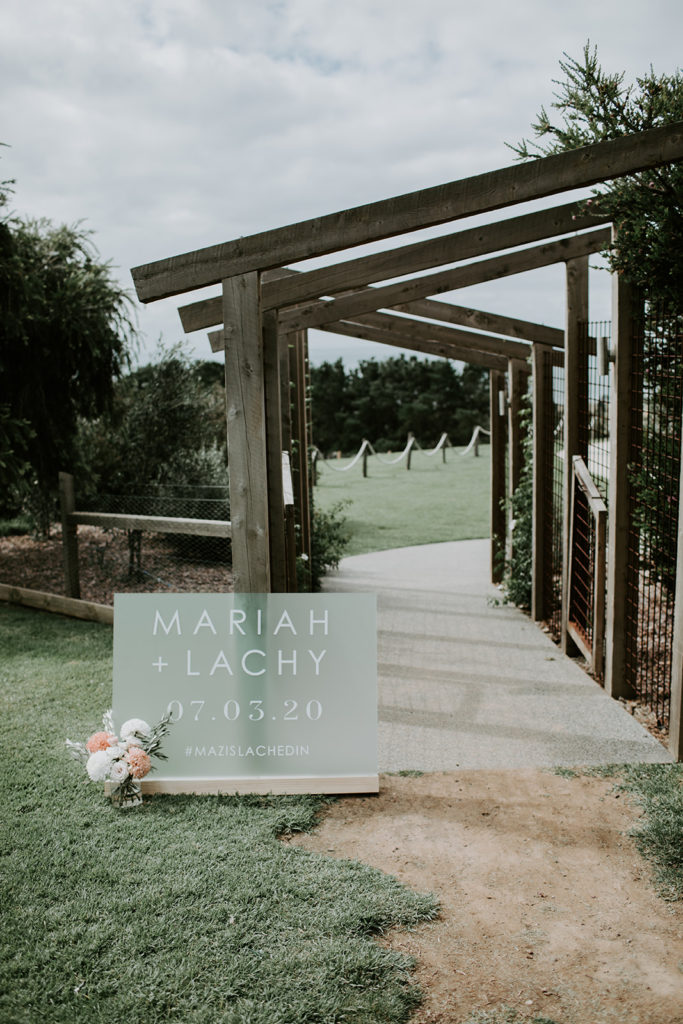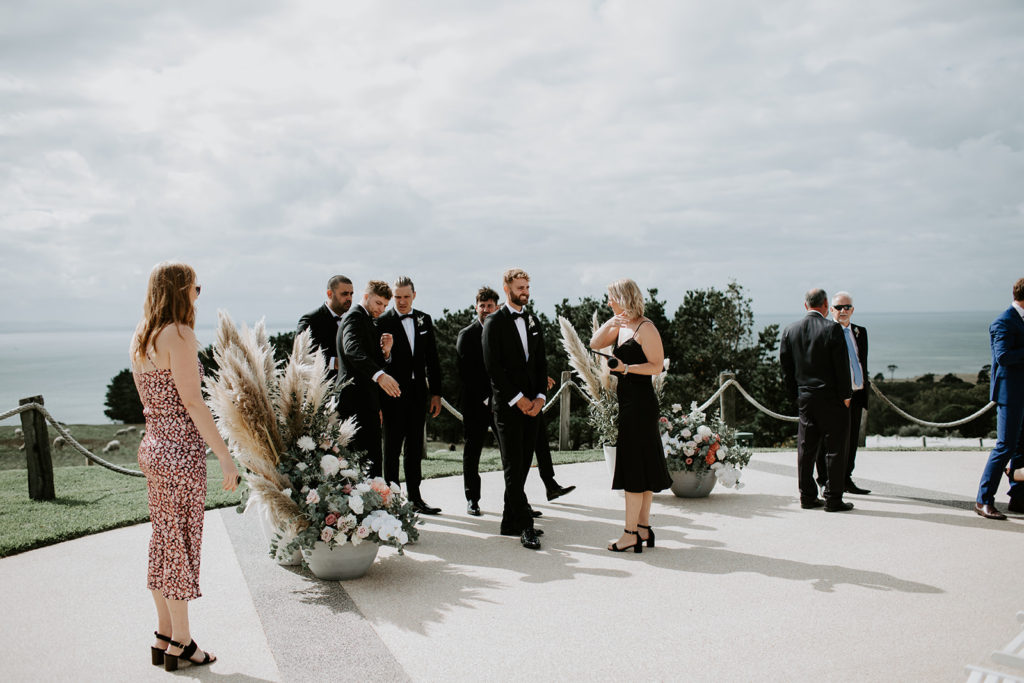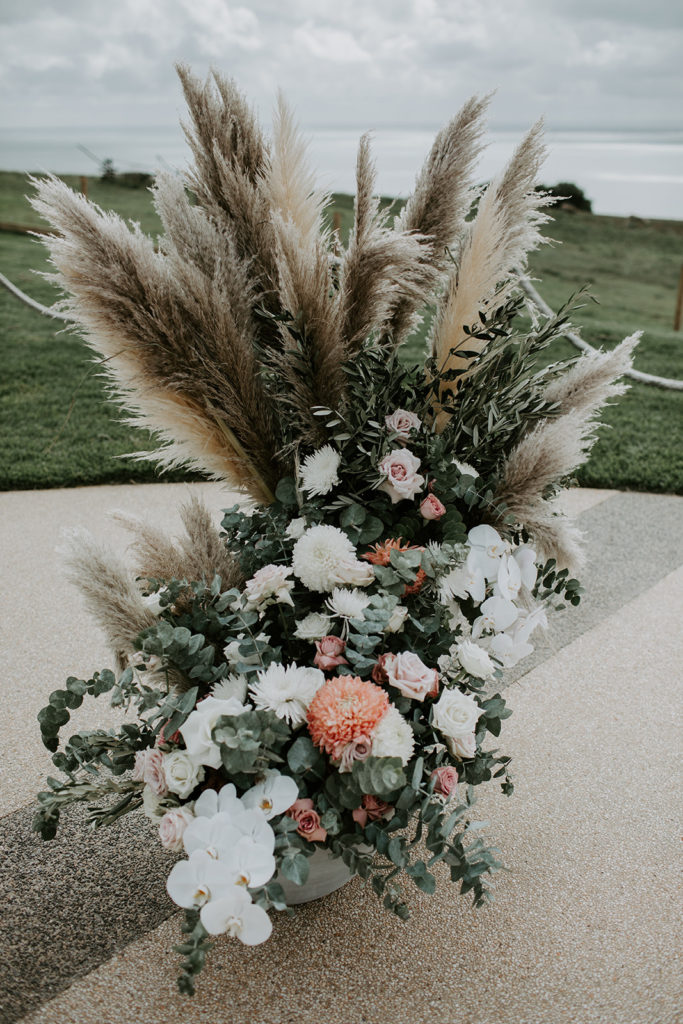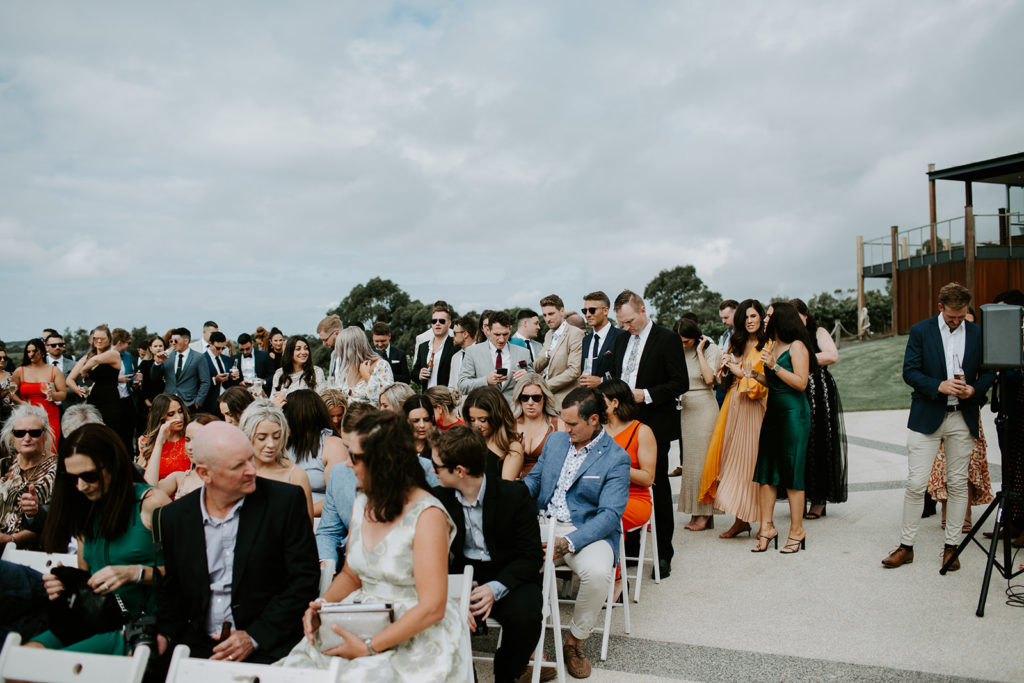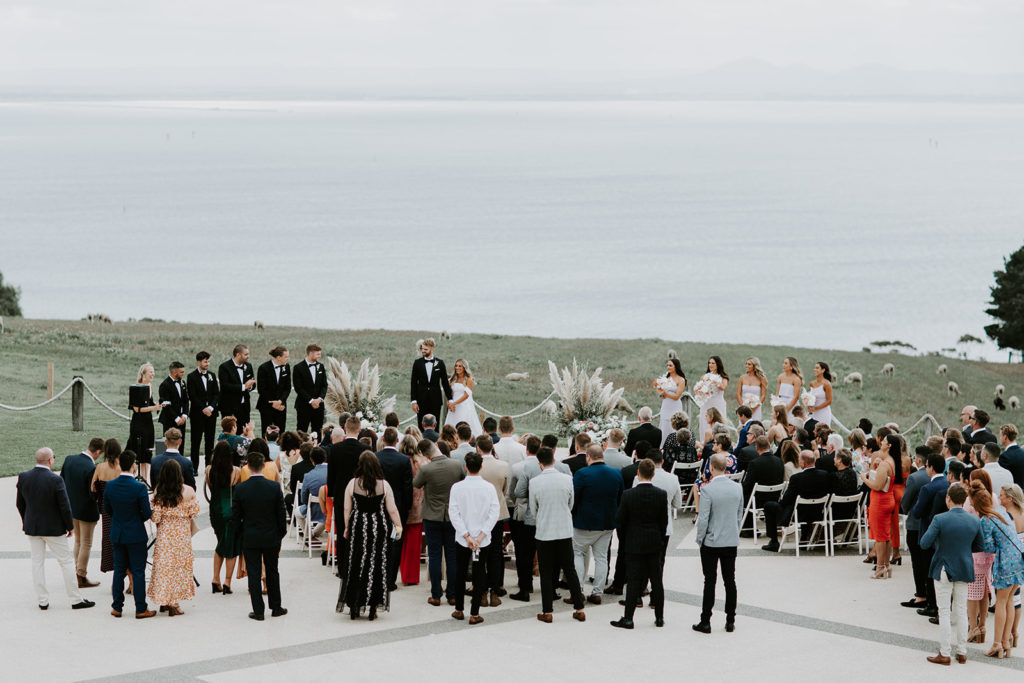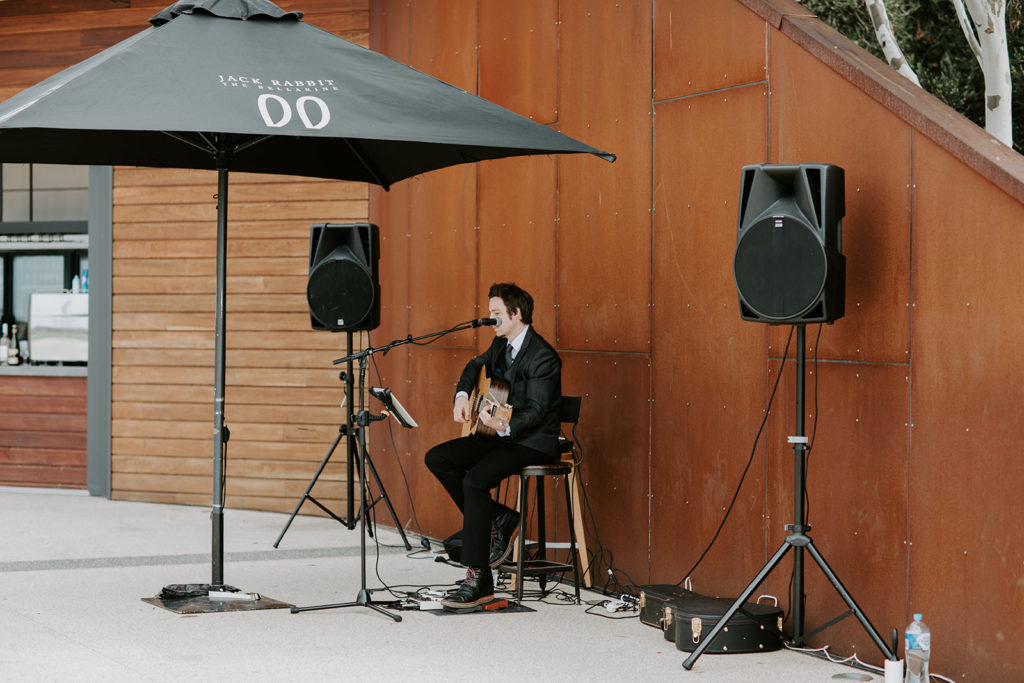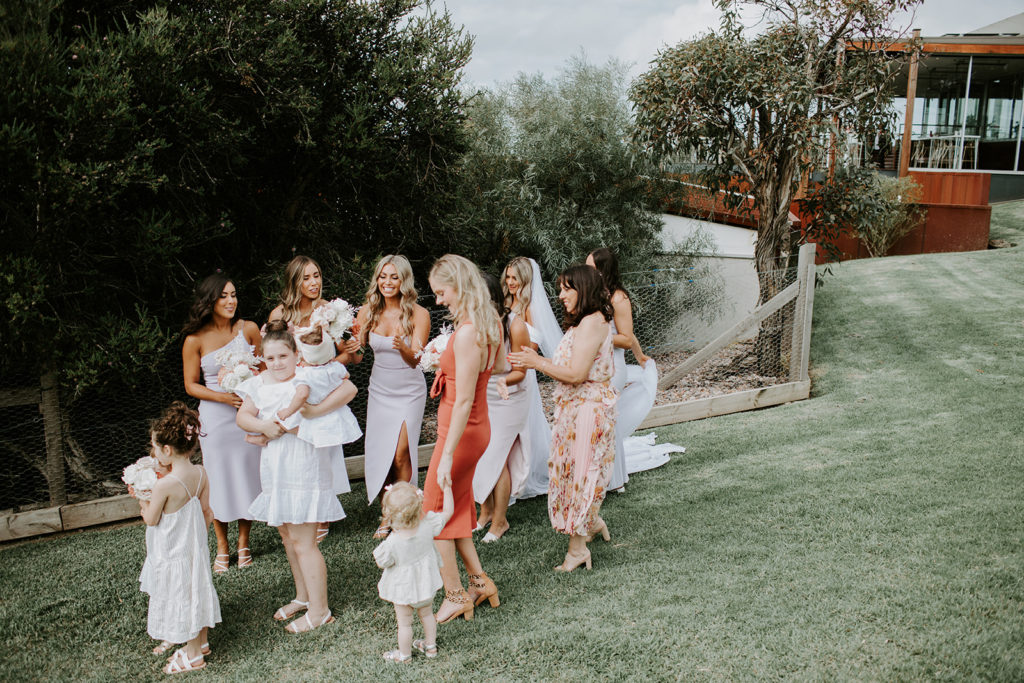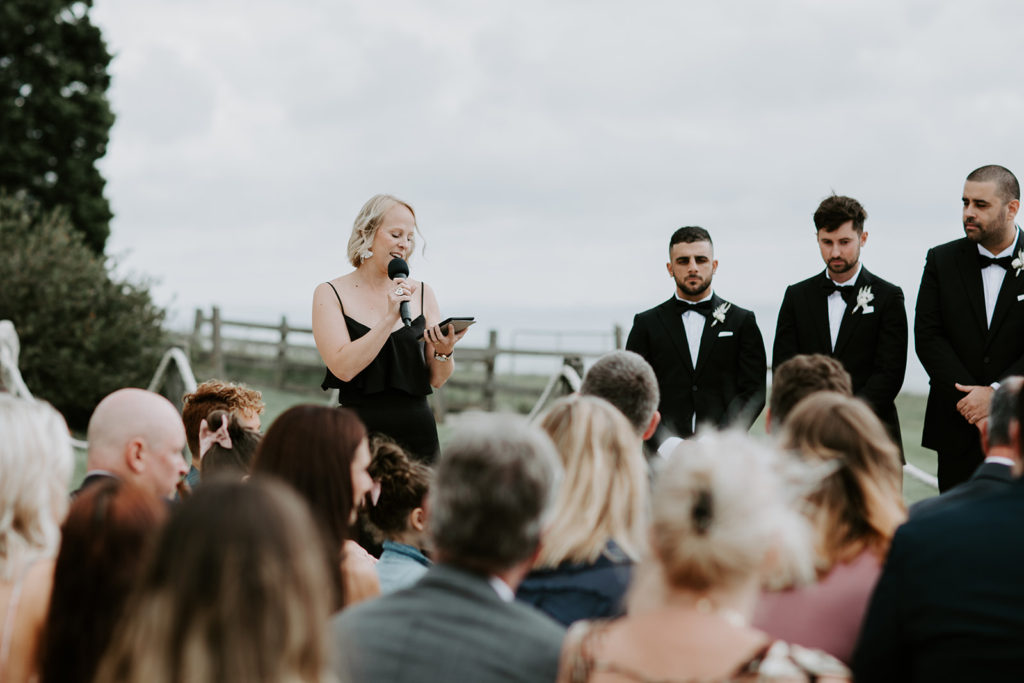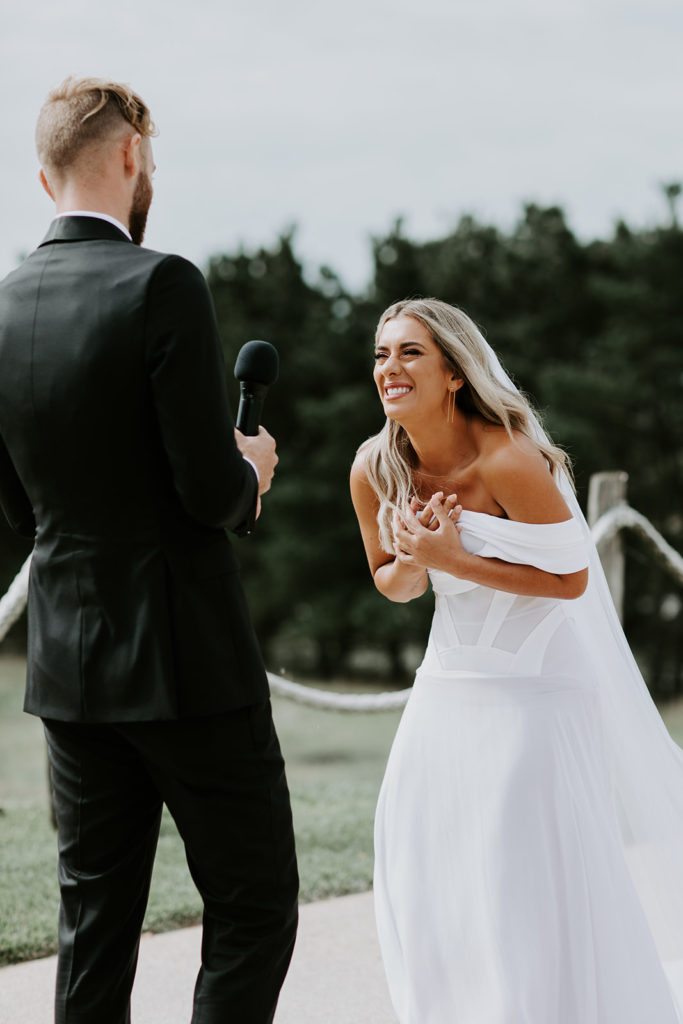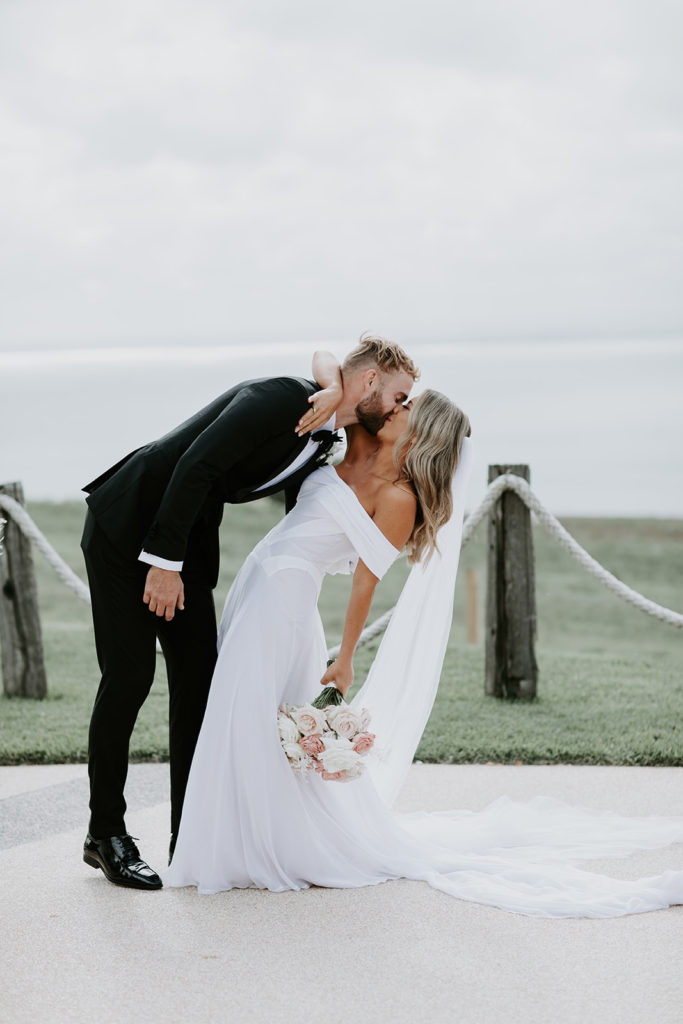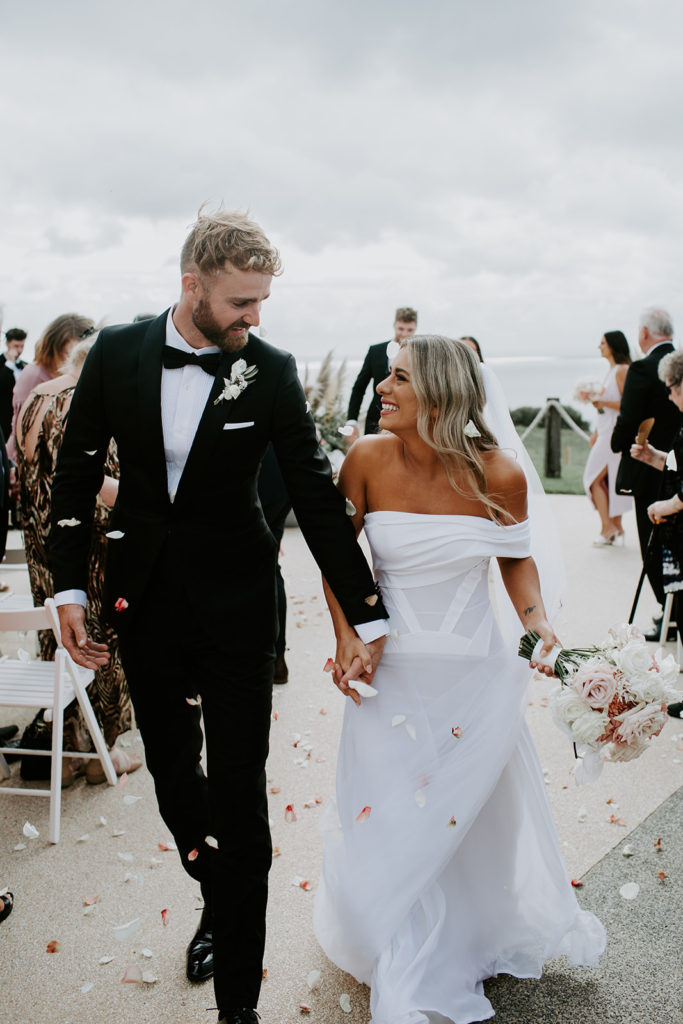 The guests enjoyed canapes on the deck with that amazing view, while the couple headed off to the vines for some photos and several bottles of Verve to celebrate. This couple were surrounded by the most amazing wedding party. The ladies were just so generous and loving, they made Mariah the absolute centre of their thoughts. They were calm and collected and doted on her every need. And the boys were so polite and friendly to all of us as vendours and kept Lach happy and relaxed. You could feel the love and support and I'm sure they made such a positive contribution to their day.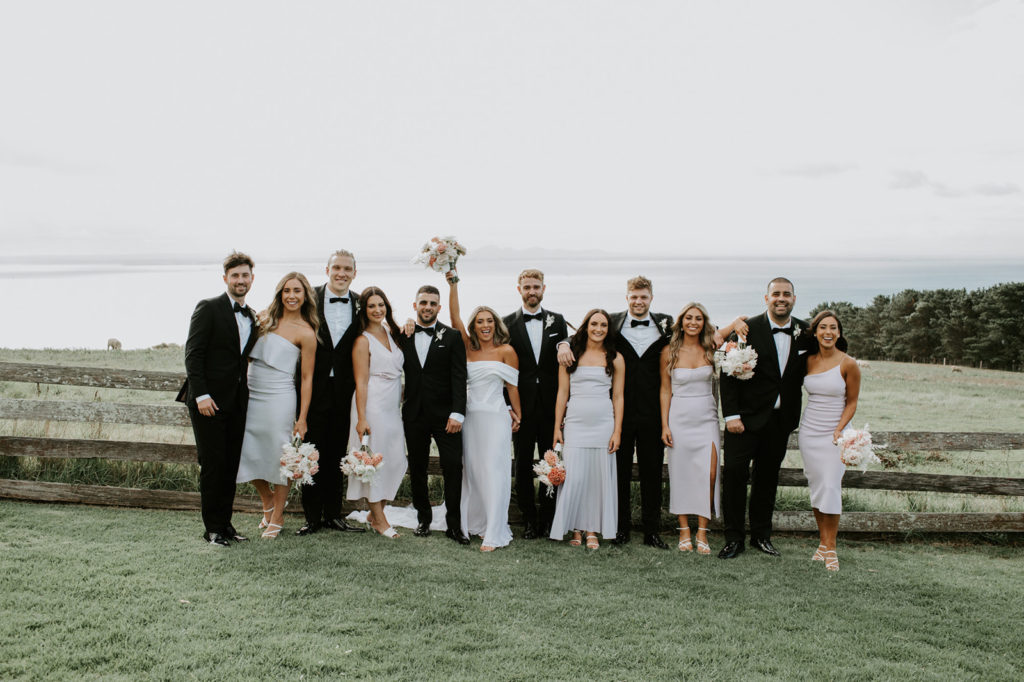 When they returned from photos, the real celebrations began.
Fun tunes, a Verve champagne tower, and some speeches drawing all the belly laughs and tears…they partied the night away.
The day after the wedding, most of Mariah and Lach's friends and family headed to the Barwon Heads hotel for a big lunch, debrief and for many I'm sure, hair of the dog.
A celebration that followed.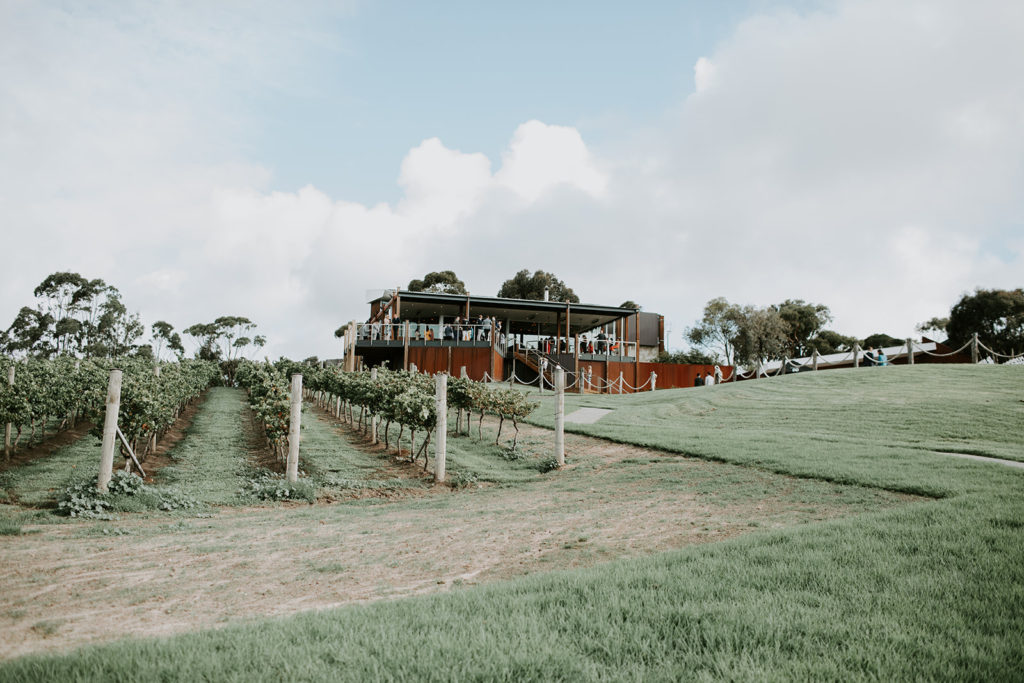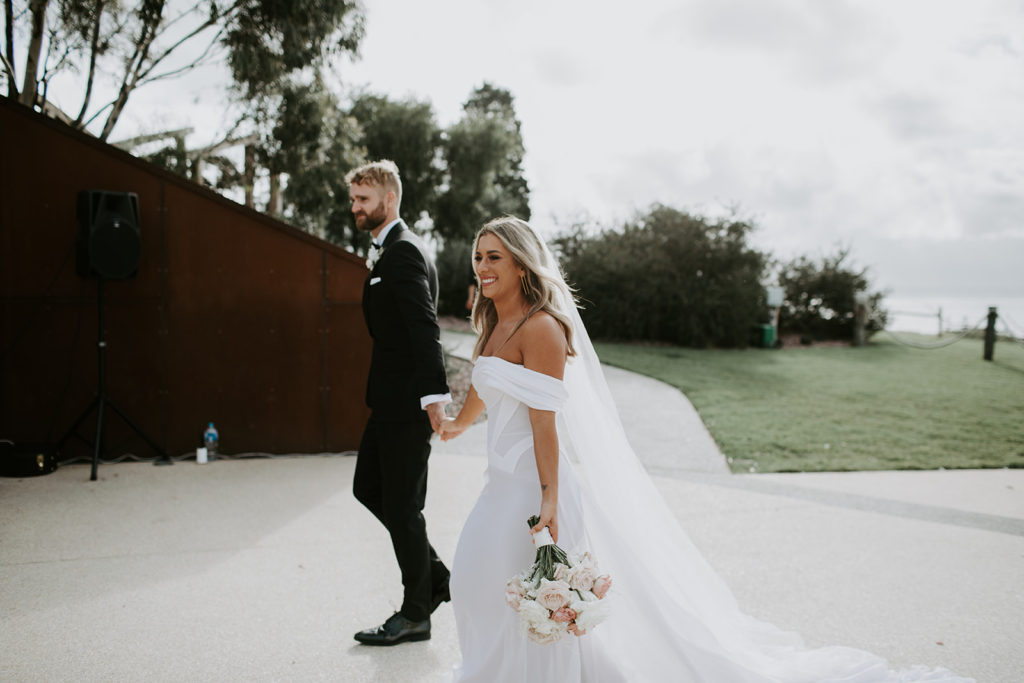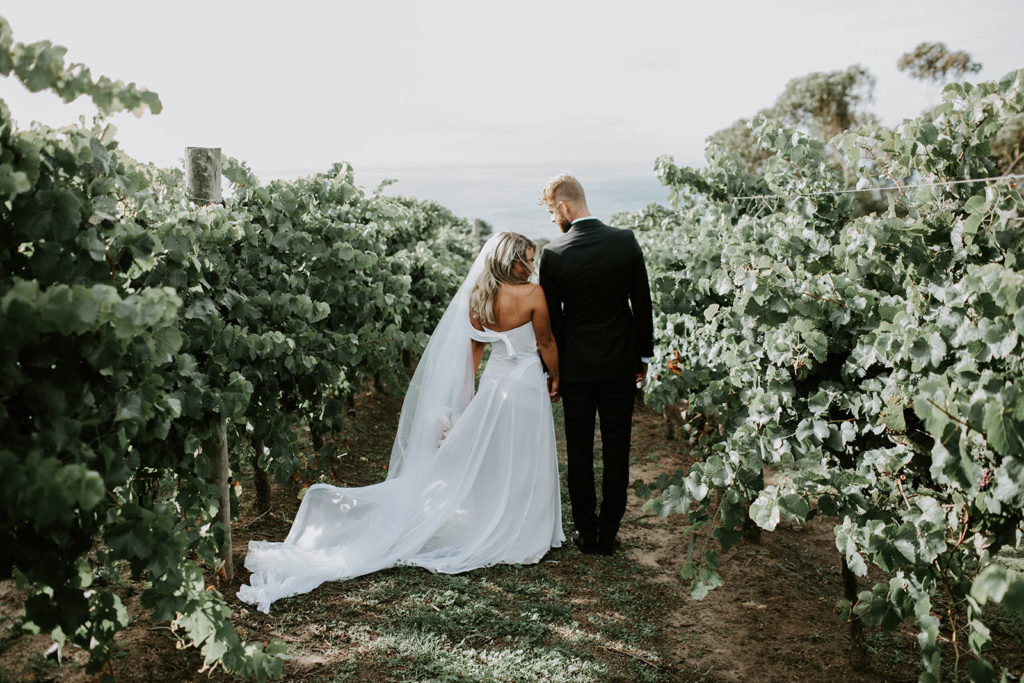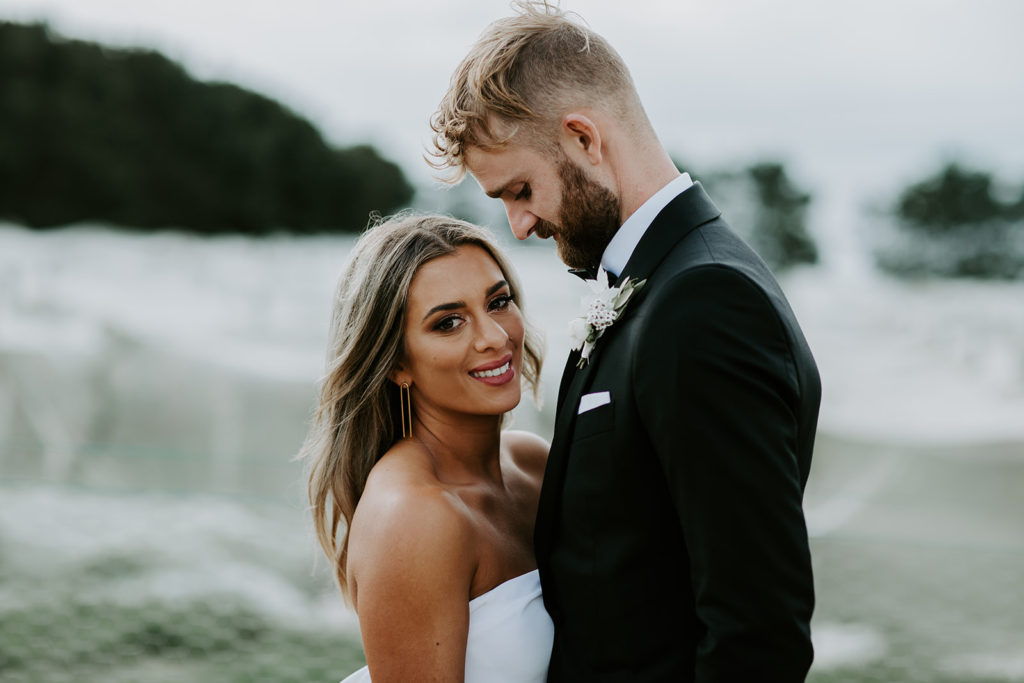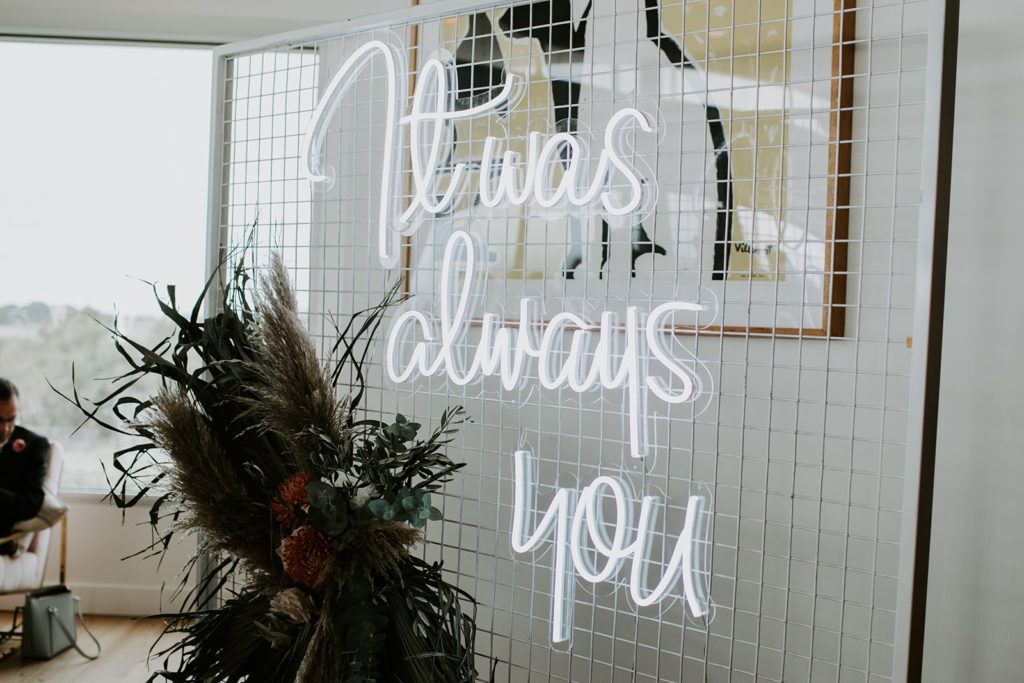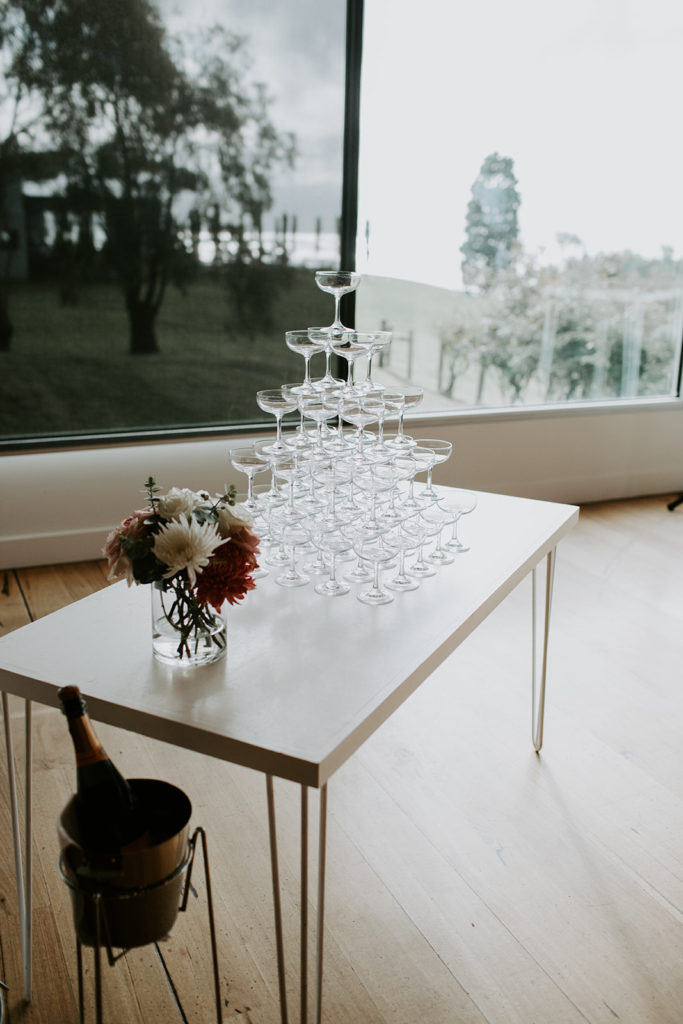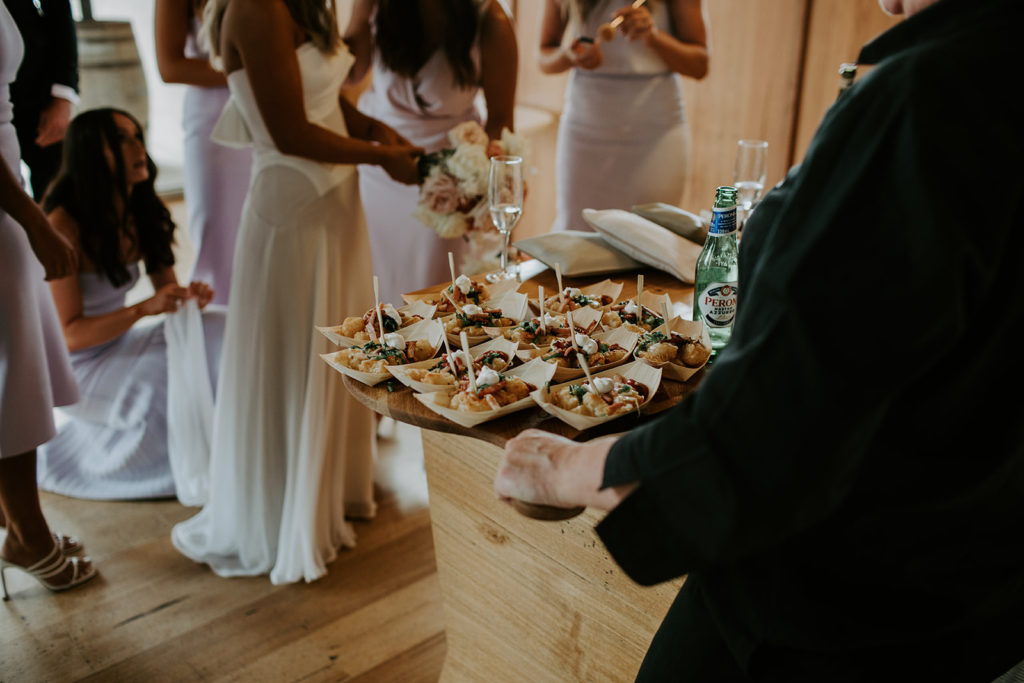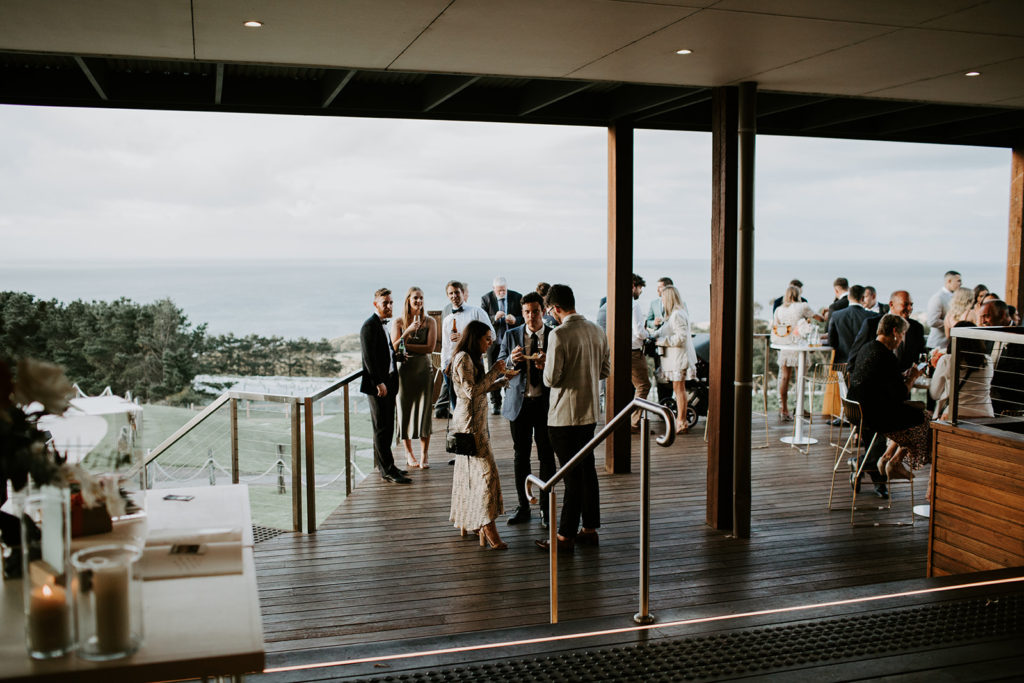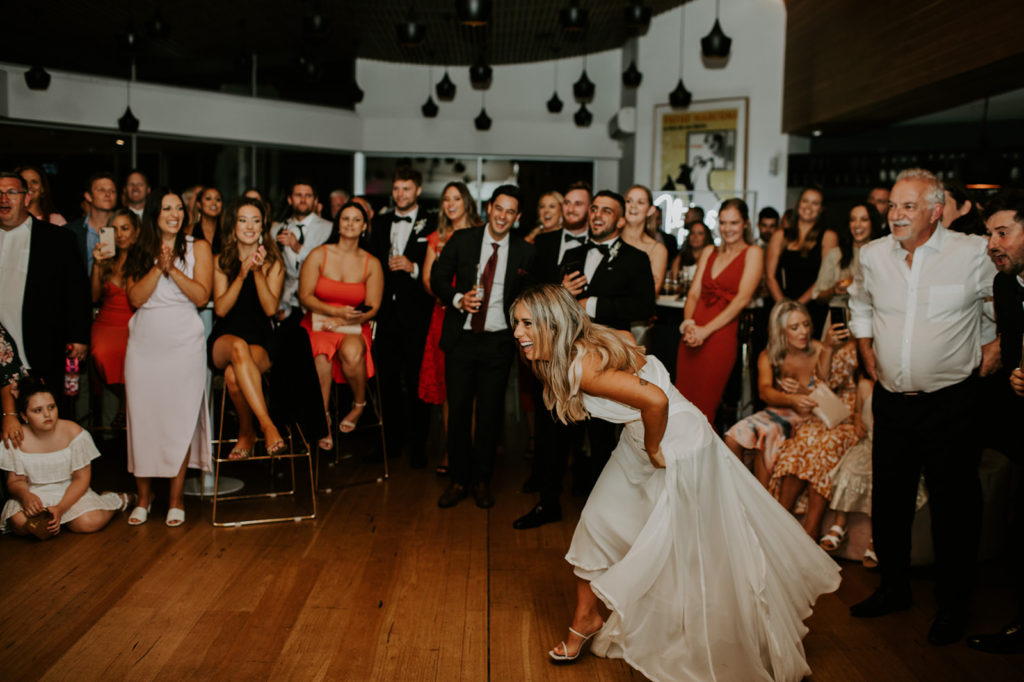 Conclusion – Every Melbourne couple.. rephrase- every couple in Aus should consider the Bellarine Peninsula as a destination location for their celebration.
This friends, is your perfect example!!
For All of the Fabulous and Bootylicious vendours keep reading…
Venue – Jack Rabbit Vineyard https://www.jackrabbitvineyard.com.au/
Musician – Tim Morrison – https://www.instagram.com/_timmorrison/
Photographer – Lisa Hayman – https://www.lisahayman.com/
Dress – Georgia Young Couture – https://georgiayoungcouture.com/
Flowers – Ivy Meets Rose – https://www.ivymeetsrose.com.au/