How to escape overseas for your dream wedding!
Chris and Nicki didn't want a big fuss of a wedding in their home town of Melbourne. With Chris's daughter Sadie and their son Albie, it was only fitting for them to escape the hustle and bustle and seek the sun and fun of Bali for their nuptials.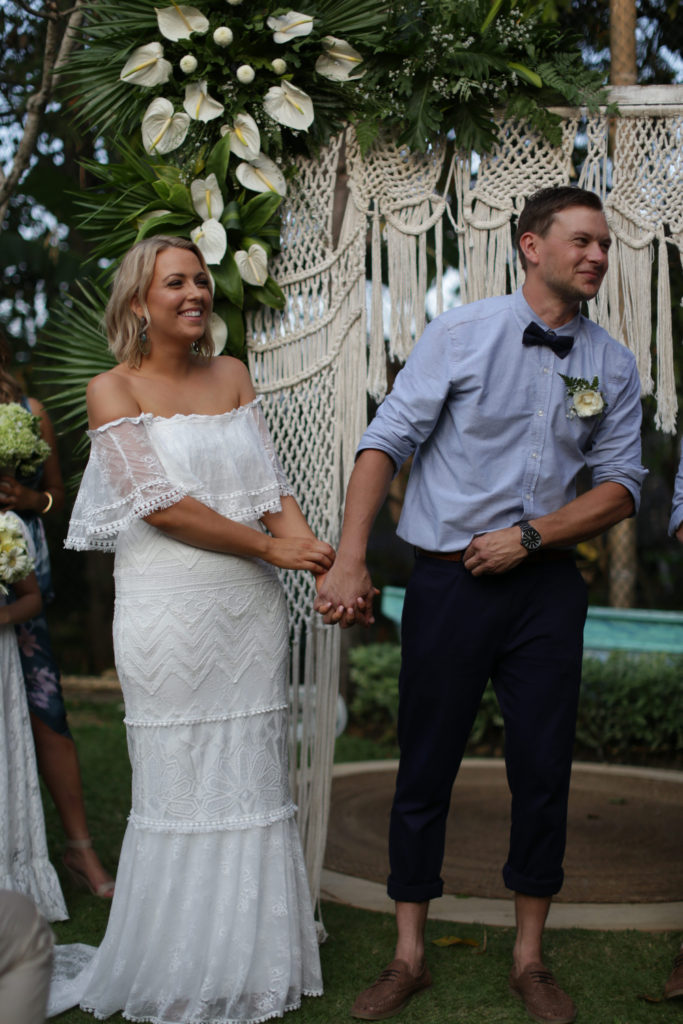 Get married in Australia first…
Fly to Bali and have a second ceremony…
Ummmmm, we're done. Pretty simple right?!
Carly getting Albie and Sadie started off down the aisle
So it really wasn't hard! We organised a short legals only wedding ceremony in Melbourne, at the Prahran Hotel. Chris and Nicki invited their nearest and dearest and made the ceremony all about their family – how much they meant to them and how much they loved and appreciated their support. Afterwards, we crawled our way down Chapel Street with them and danced the night away.
To do this though, there were some questions that needed answering? Is the marriage legal in Australia? Can you have a wedding in Bali that is recognised in Australia? Well, the answer is YES, but there were some steps we needed to put in place to make this happen for them!
The ceremony – Bali
A month later, about 80 guests flew to Bali for their wedding. Personally, we took some time away from our kiddies and enjoyed time with our partners, some great friends, and our parents, who were also invited. What better a way to do a wedding, right?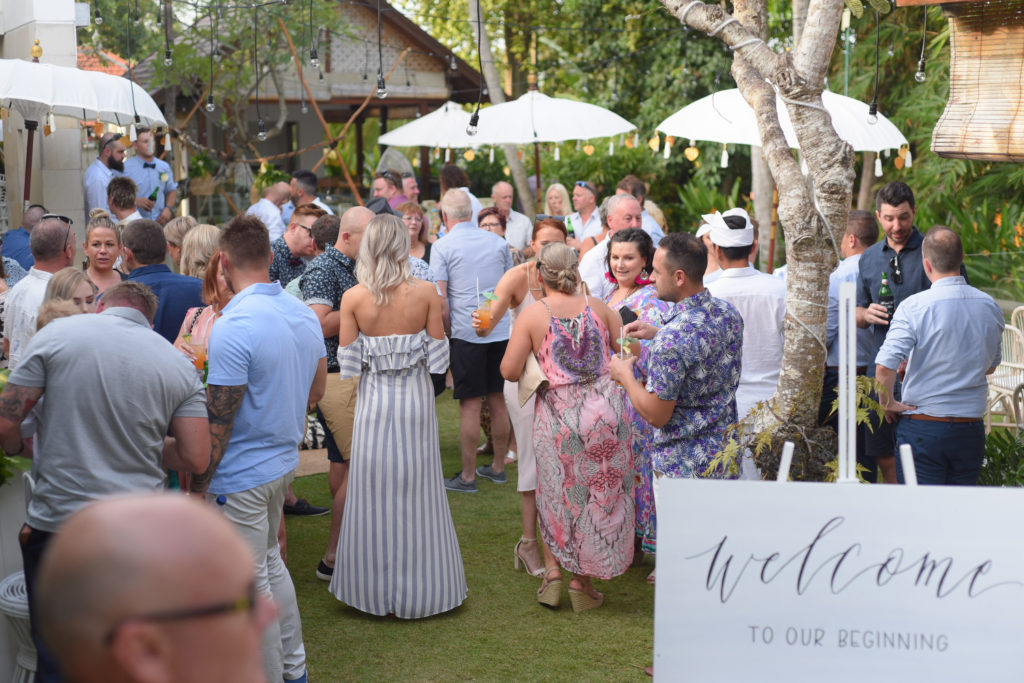 Although their 'legals only' ceremony in Melbourne was simple and perfect, their Bali wedding was NEXT LEVEL! Cocktails greeted the guests on arrival and continued well into the night. The venue was the stunning Villa Batu Sari and was decked out with gorgeous lighting, local florals, bamboo chairs and a stunning arbour with a macrame hanging. It was perfect!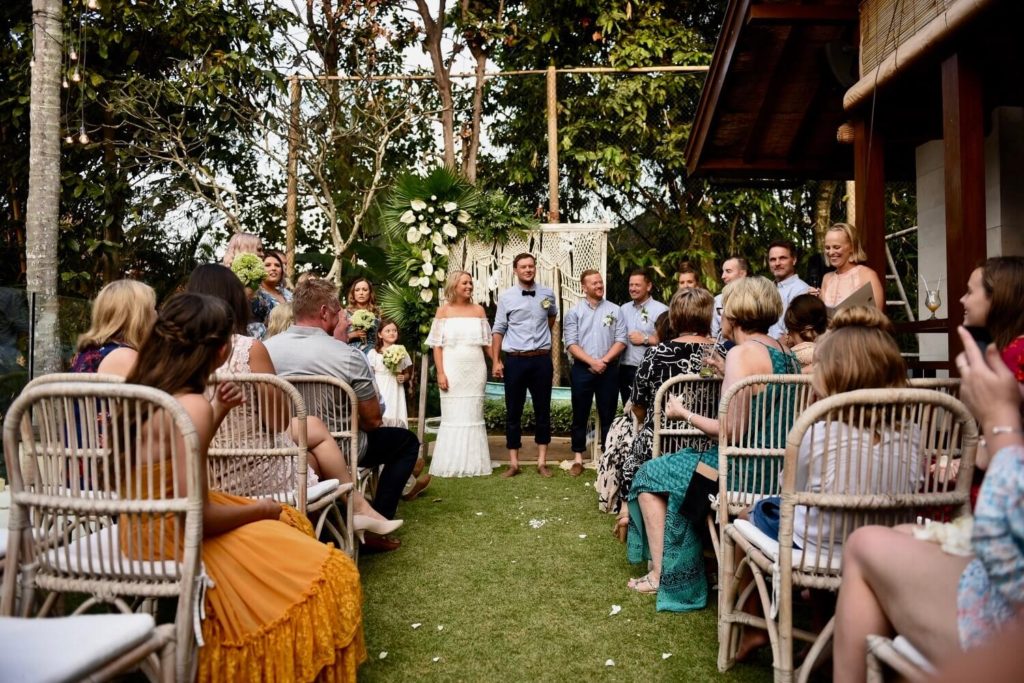 Chris and Nicki styled their own perfect ceremony, with our help, and the result was a perfect blend of smiles, laughter, fun and love. All the feels for this amazing pair and their wonderful family. We ran it just as we would do back in Australia, except we deleted the 'official' monitum, (fancy marriage word explaining what marriage is in Australia). They were already legally married back in Australia, so we could take out this part and have a play around with the wording. It was perfect, as you might see from pics of the groom shedding some tears…..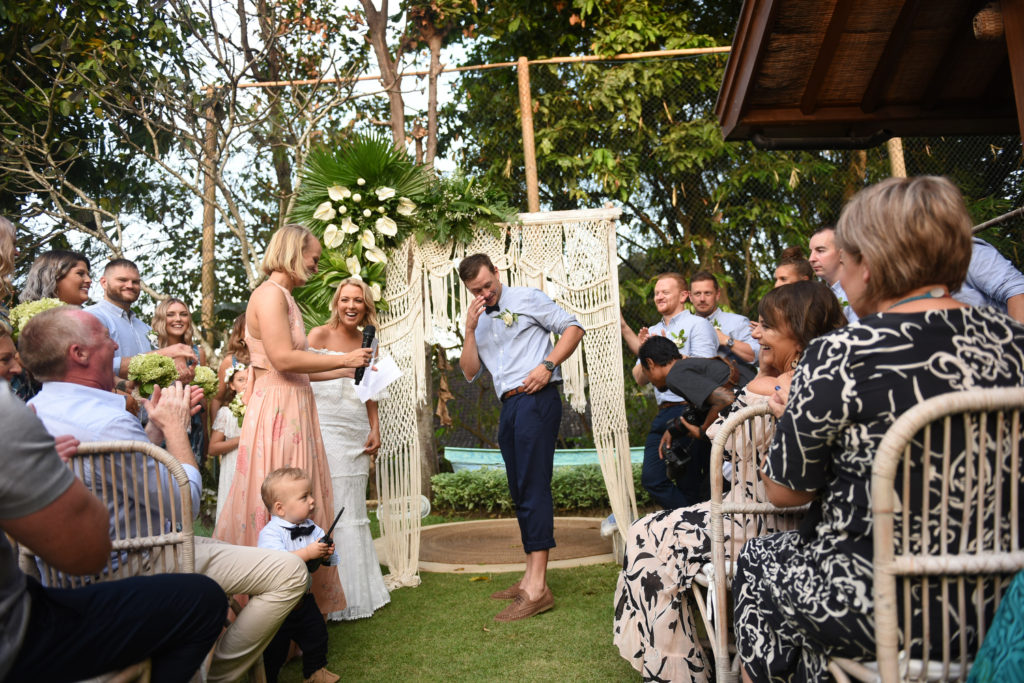 Chris and Nicki exchanged rings in front of their nearest and dearest as their son Albi stole the show with his cheeky smile. Everybody was sitting back, relaxed and enjoying all of the beautiful moments.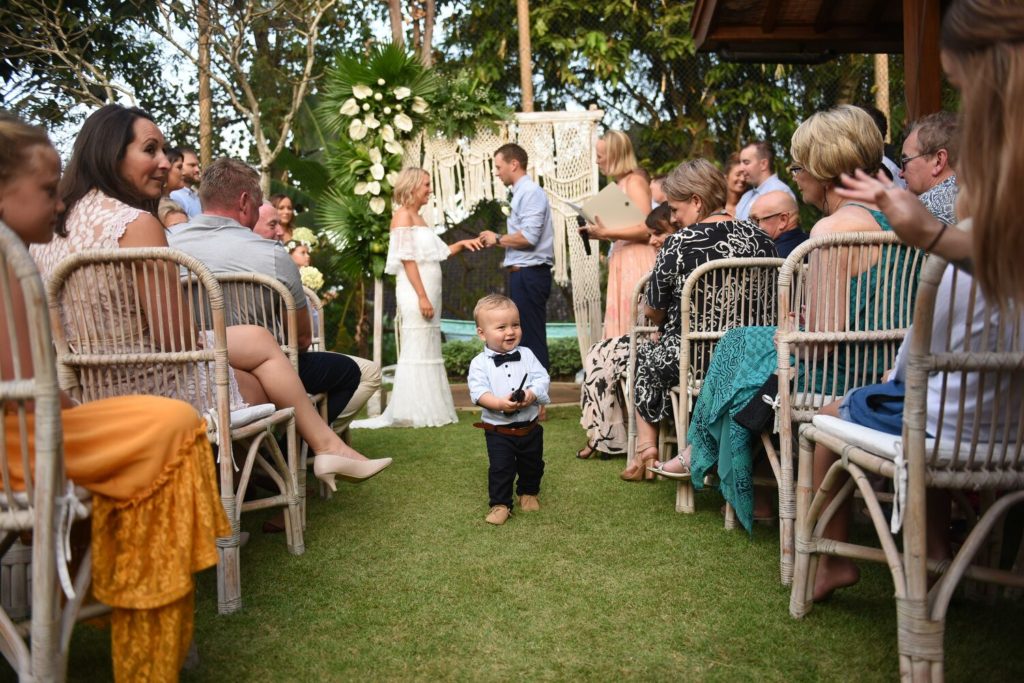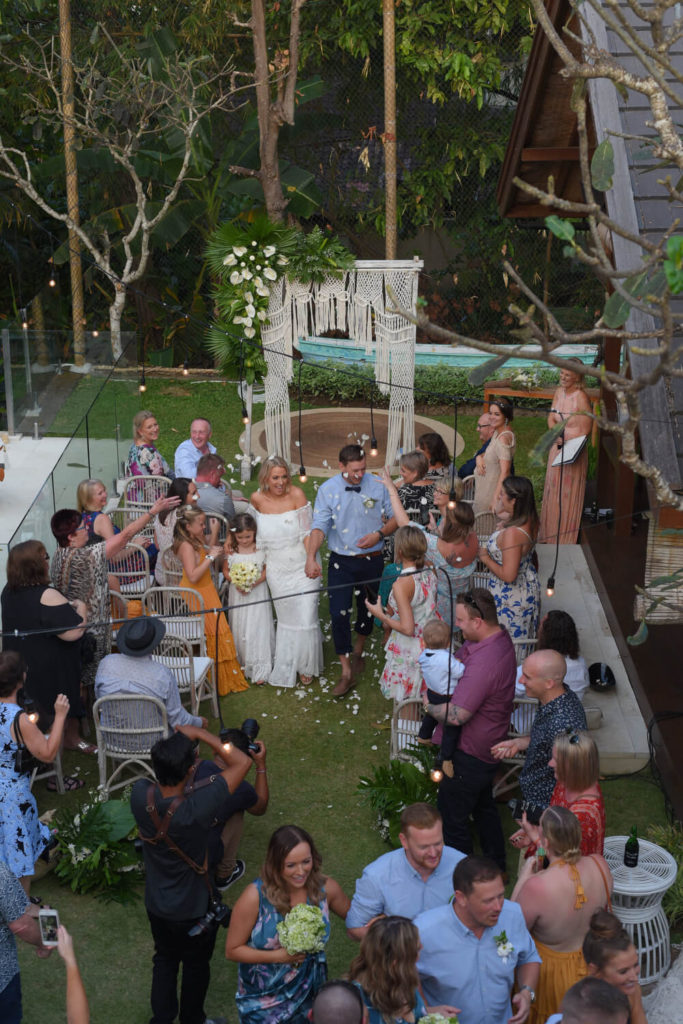 The reception – Bali
Following their ceremony, we partied the night away. Cocktails were on the menu throughout the night and some amazing local Balinese chefs turned it on for the guests with a smorgasbord of delicious Indonesian food.
The guests could graze as they pleased and pad around bare footed if they fancied.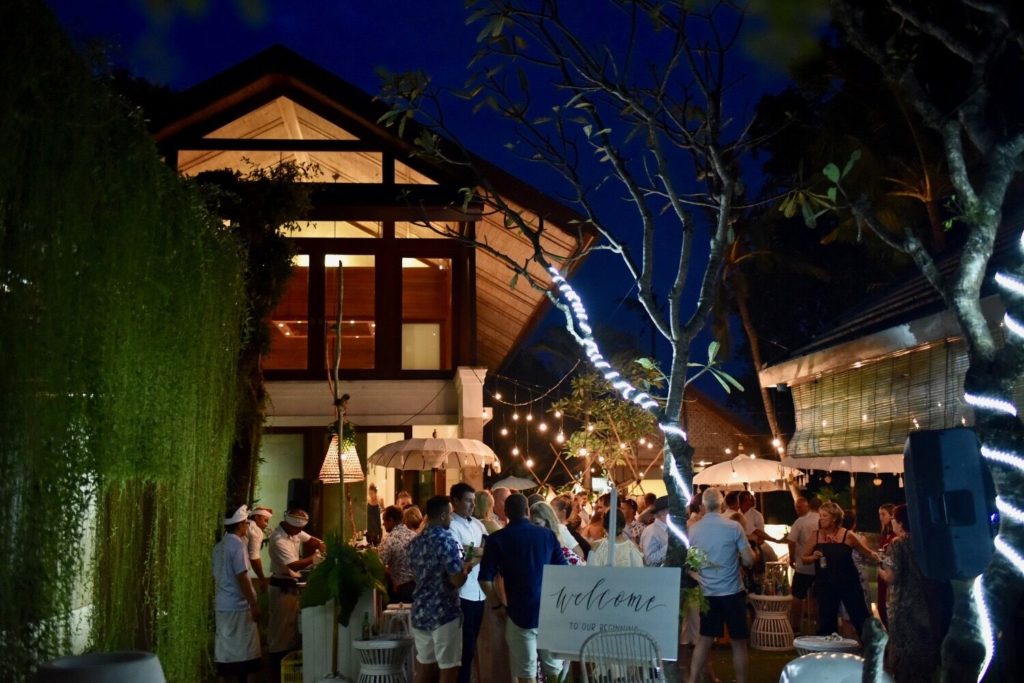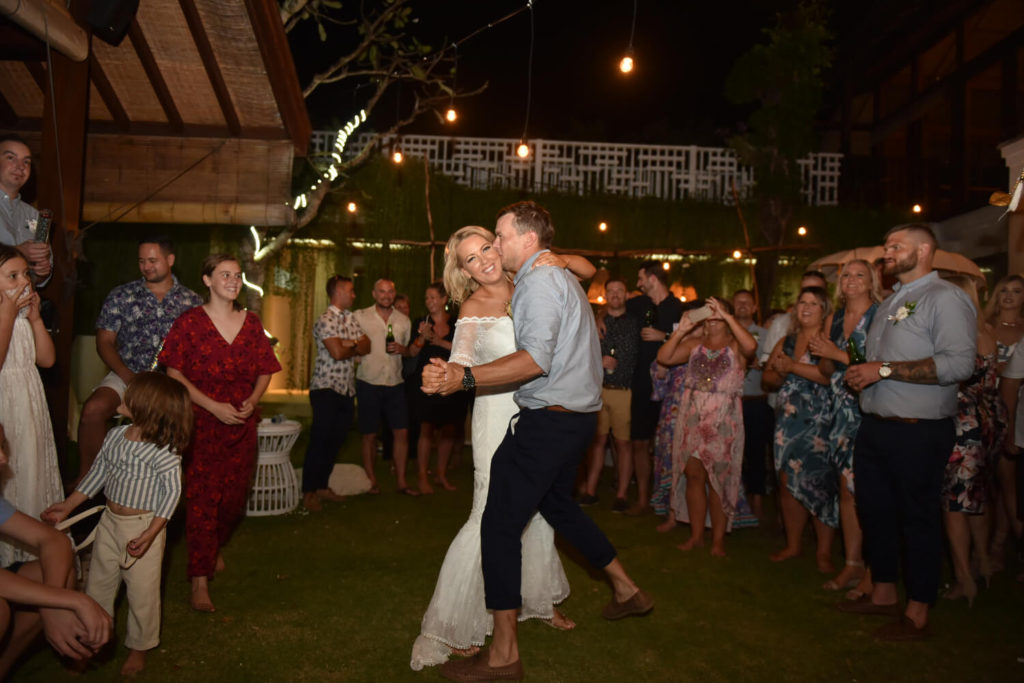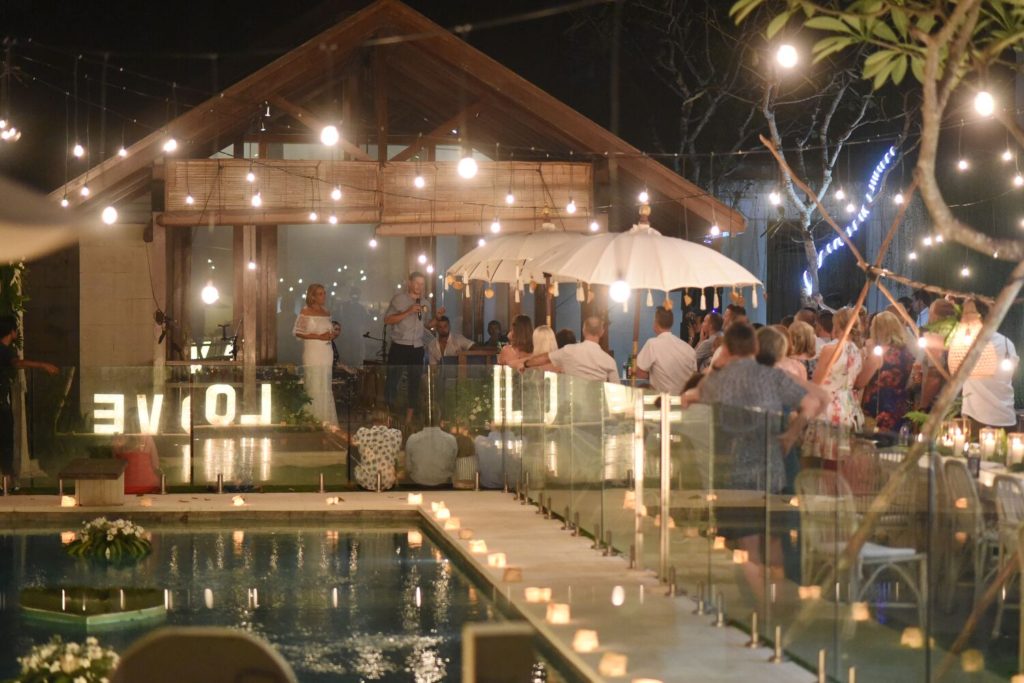 A destination wedding done right!
It just goes to show that a wedding in Bali, or anywhere overseas for that matter, doesn't have to be a stressful process. It is actually quite the opposite!